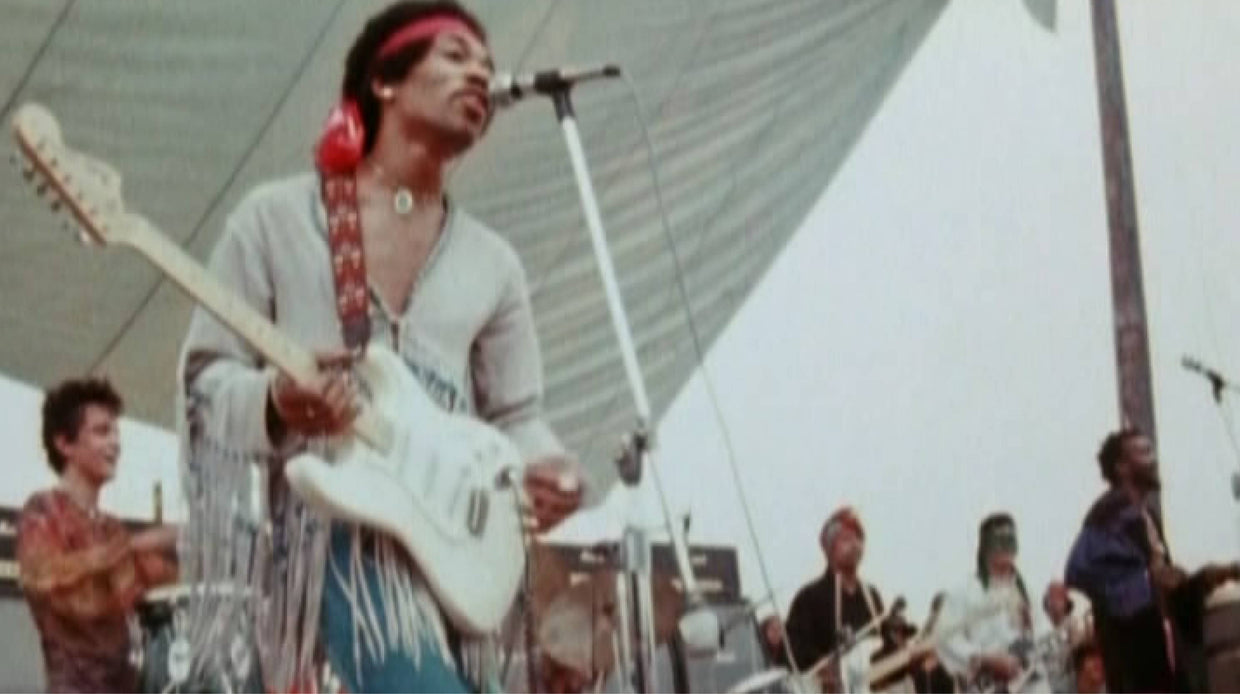 September 27, 2022By laura.whitmore@positivegrid.com BigCommerce 0 Comment
The Best Jimi Hendrix Guitar Performances and Moments

By Brad Tolinski
It's almost impossible to dispute that Jimi Hendrix is one of the greatest guitarists of all time. Whether he was playing blues ("Red House"), proto-metal ("Purple Haze"), R&B ("Hey Joe"), punk ("Wild Thing") or going deep on improvisation ("Voodoo Chile"), Jimi did it best. What makes it even more incredible, he did it all in roughly three short years from 1967 to 1970.
How Good Was Jimi Hendrix?

The legendary Eric Clapton described the first time he saw Jimi perform in 1966: "He played just about every style you could think of, and not in a flashy way," said Clapton. "I mean he did a few of his tricks, like playing with his teeth and behind his back, but it wasn't in an upstaging sense at all, and that was it ... He walked off, and my life was never the same again". Yes, he also lit his guitar on fire, but he could set his guitar ablaze just with his playing.
[Read More: Jimi Hendrix Guitar Tone]
In honor of Black History Month, we thought it would be a good idea to explore the career of one of the most important black guitarists of all time. Below we've picked ten standout Jimi Hendrix guitar moments that absolutely need to be on your radar. In addition to the universally agreed upon best Jimi Hendrix songs, we tried to pick a few you may not be as familiar with. Jimi was so much more than his greatest hits, and here's a list to prove it.
Best Jimi Hendrix Guitar Performances and Moments

Written in 1967, "Little Wing" is one of Jimi's most beloved songs and one of his greatest guitar moments. Clocking in at a short two-and-a-half minutes, it features one of his most beautiful melodies and soulful chord progressions. The studio version on Axis: Bold of Love is terrific, but if you can track it down, we prefer the live version at Royal Albert Hall recorded on 2/24/69.
Hendrix was a master improviser and "Machine Gun" was one of his greatest vehicles. More than just a collection of notes, Jimi used the song and his guitar to protest the pain and injustices of war. In this incredible guitar solo, recorded live at the Fillmore East in New York in 1970, one can hear the guitarist replicate the sounds of bombs dropping, guns firing and cries of the wounded.
Not only is it widely considered one of the greatest live songs ever, but it also holds the unique distinction of being one of the hardest guitar songs to play based on feeling alone. Many guitarists can play these notes, but few can capture the vibe being given off by Jimi in this performance.
"All Along the Watchtower"

In addition to being a stellar guitarist, Jimi was also a superb arranger. On "All Along the Watchtower" he takes a simple three-chord Bob Dylan song and transforms it into a rock and roll symphony. It's worth taking special note of how tastefully he uses effects throughout the song to create different moods and textures. From the dreamy slide guitars to the watery wha-wha's, "All Along the Watchtower" is a master class in tone and structure.
[Read More: Jimi Hendrix Guitar Tone]
"Voodoo Chile (Slight Return)"

The ultimate jam song! If you don't know the opening lick to "Voodoo Child (Slight Return)" you might as well pack your guitar and go home. But don't worry, we won't leave you hanging. Check out the lesson link, research some Jimi Hendrix tabs, nail a few of those opening chords, and soon you'll be making some mad voodoo of your own.
Originally released on Cry of Love, the first album released after Jimi's death, "Night Bird Flying" is one of his last masterpieces. It's a stunningly complex piece of music with multiple guitar parts that build to a stunning climax. Posthumous releases are a tricky subject for some fans, but there's no denying that this tune is a truly breathtaking example of Jimi's high-flying genius.
"Drifting" is another brilliant late period song by Hendrix that doesn't get enough attention. Jimi was one of the first guitarists to experiment with recording backward guitar parts, a studio technique heard on songs like "Castle Made of Sand" and "Are You Experienced?" But on "Drifting," he employs backwards masking in a far more advanced and sophisticated way. It is unquestionably a top-tier Jimi Hendrix guitar moment.
"The Star Spangled Banner"
(Woodstock, August 18, 1969)

"The Star Spangled Banner" has been performed in millions of ways, but Jimi Hendrix's solo guitar performance at the 1969 Woodstock Festival, captured on the documentary film of the event, is perhaps the most famous—for good reason. With just a white Fender Stratocaster and a Marshall amp, he captured the power, the glory, the violence and beauty of the United States in a scant four minutes.
When asked why he performed the National Anthem at the legendary hippie rock festival, Hendrix responded, "I'm American, so I played it...it's not unorthodox. I thought it was beautiful." Indeed.
"Here My Train A' Comin'"

Jimi was one of the few artists that could write a standard blues tune that sounded both authentic and fresh. "Here My Train A' Comin'" was one of those. He played it often in concert but never quite nailed it in the studio. However, in 1968 with the camera's rolling, Jimi played this impromptu version on a slightly out-of-tune 12-string acoustic guitar. The intimate performance shows JImi in a different light—sweet, vulnerable and doing his best to please.
Okay, okay...you can't have a list of the best Jimi Hendrix guitar moments without including "Purple Haze." The psychedelic masterpiece created a whole new language for the electric guitar. If you're going to listen to this, we urge you to pop on a pair of headphones and marvel at the depth and imagination of the playing and the production. Then consider it was recorded using only four tracks. There's no doubt that this is not only one of the best Jimi Hendrix riffs, but one of the greatest guitar riffs of all time.
When people wonder where Hendrix was musically heading when he died, this isn't a bad place to start. One of the most fully realized recordings in the months before his death, the song is built on one of his funkiest grooves and a multitude of interlocking guitar overdubs that gives the song its unmatched urgency. The opening riff is one of Jimi's most riveting. Where was he heading? To the future, baby!
Final Thoughts: Best Jimi Hendrix Guitar Performances and Moments
Get ready to unleash the revolutionary Jimi Hendrix sound with the Experience Jimi Hendrix™ collection of amps, effects and all new interactive features, created exclusively for Positive Grid's #1 best-selling Spark practice amp and BIAS FX 2 guitar software.
In this official collaboration with Authentic Hendrix™, we've meticulously recreated Jimi's famous gear and unmistakable sound. From gritty fuzz to psychedelic modulations, you can plug into and customize his legendary tone using our Spark amp or BIAS FX 2 software to forever change the way you play guitar.
---
Brad Tolinski is perhaps best known for his work as the editor-in-chief of Guitar World Magazine for 25 years. He is also the author of Light and Shade: Conversations with Jimmy Page (Crown); and Play It Loud: An Epic History of the Style, Sound and Revolution of the Electric Guitar (Doubleday), which was the basis for a 2019 guitar-focused exhibition at the Metropolitan Museum of Art in New York City. Most recently he edited the 50th Anniversary Commemorative Issue of CREEM magazine, and his latest book Eruption: Conversations with Eddie Van Halen (Hachette) will be coming out in October 2021.