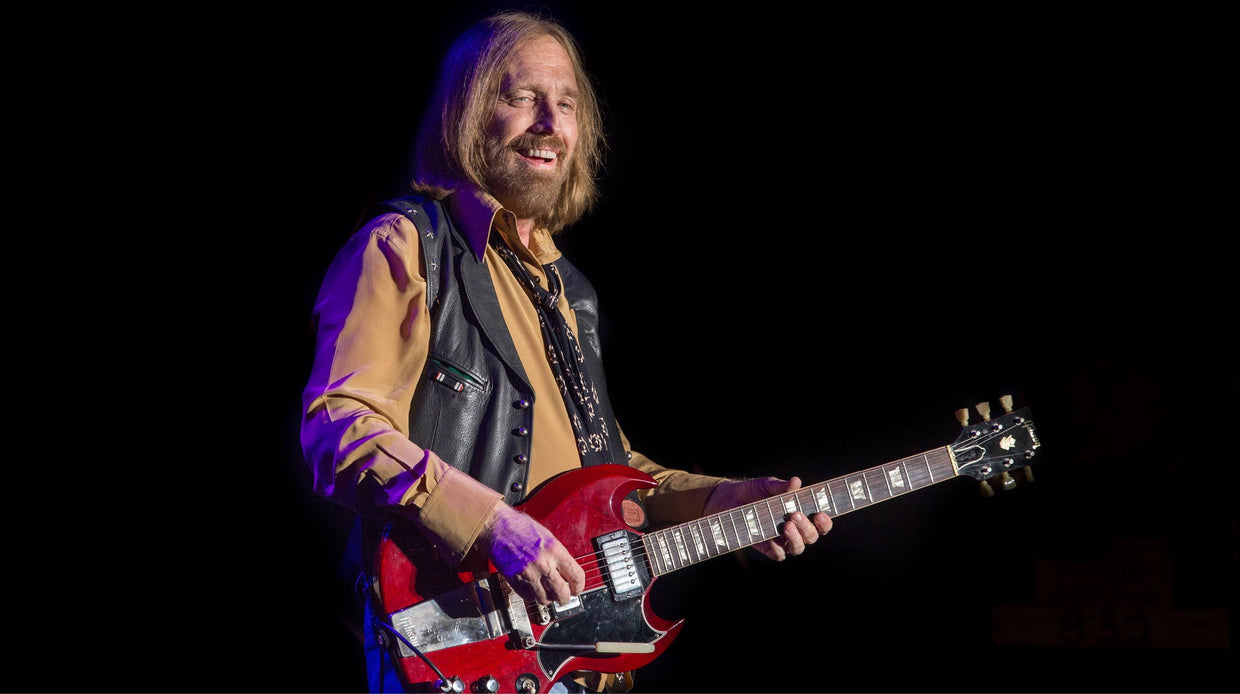 September 27, 2022By tom.gilbert@positivegrid.com BigCommerce 0 Comment
The Best Patriotic Rock Songs About America for 4th of July
By Brad Tolinski
There are many ways to say "God bless America" with a guitar. You can turn your amp up and rock the national anthem like Jimi Hendrix, or simply celebrate your personal independence by blasting the chords to "Rock and Roll All Nite." Either will produce the appropriate musical fireworks for any July 4th celebration.
The following are a list of patriotic rock songs that we think express good ol' American values and make this country worth shreddin' for. After all, freedom is nothin' but a chance to be better.
Keep in mind that this list is unranked, as these all deserve a spot on your Independence Day playlist. You've got bigger things to worry about today, like grilling for your daughter's boyfriend who only eats veggie burgers.
Best Patriotic Rock Songs
Grand Funk Railroad
"We're An American Band"

There are few things more American than a song with a killer cowbell part, and "We're An American Band" has that in spades. But if that isn't enough, the video features the four members of Grand Funk doing donuts on their motorcycles on a farm in Michigan, and for that, we salute them! A great song for the 4th of July or any other occasion.
John Mellencamp
"R.O.C.K. in the U.S.A."

This crackling three-chord tribute to touring musicians is enough to make you pack your guitar and give it a shot yourself. With lyrics like, "Well, some are black and some are white/And ain't too proud to sleep on your floor tonight, with blind faith of Jesus you know that they just might," this Mellencamp anthem is the garage rock version of "This Land Is Your Land."
Beach Boys
"California Girls"

Not only is this a rock song about America—it's a rock song about American girls. Sure, the Beach Boys are a little partial to the West Coast, but there are plenty of compliments to go around. One of the best patriotic rock songs ever!
Beastie Boys
"(You Gotta) Fight For Your Right (To Party)"

"Don't tread on me" is a historic expression of American patriotism and personal liberty, but so is "you gotta fight for your right to party." In a list of top rock songs about America, it's a hot dog with all the fixings!
Steve Miller Band
"Living in the USA"

And speaking of hot dogs, with lyrics like "I gotta be free" and "somebody give me a cheeseburger," this funky jam is a perfect 4th of July song. If you like your barbecue with a side of killer blues harp, you'll relish "Living in the USA." One of the tastier rock songs about America.
Van Halen
"Dancing in the Streets"

What better description is there of the 4th of July than "an invitation across the nation, a chance for folks to meet." David Lee Roth drives the point home as he crows over Eddie Van Halen's guitar fireworks, "It doesn't matter what you wear, just as long as you are there." If that isn't equal opportunity and equal rights, we don't know what is.
Lynyrd Skynyrd
"Free Bird"

When asked about the meaning of "Free Bird," singer Ronnie Van Zant said, "It's about what it means to be free, in that a bird can fly wherever he wants to go. Everyone wants to be free...that's what this country's all about." He could've added that it's also about the freedom to play kickass guitar solos, which is what happens throughout most of this brilliantly patriotic rock song.
KISS
"Rock And Roll All Nite"

Can anybody argue that this is one of the top rock songs about America? It captures the joy, spirit and "can do" attitude that exemplifies our great country. (It takes a lot of "can do" to rock and roll all nite and party every day). However, it is admittedly troublesome that the lyrics are sung by a six-foot fire-breathing bat lizard...
Tom Petty And The Heartbreakers
"I Won't Back Down"

With a chorus that has lines like "you can stand me up at the gates of hell, but I won't back down," Tom really captured the fighting spirit of America and all her citizens. The late Petty once claimed that this song caused a young woman to come out of a coma, adding to its message of perseverance through adversity. We can't vouch for the validity of this claim, but we won't stop you from telling that story to your loved ones today.
Jimi Hendrix
"The Star Spangled Banner"

When talk show host Dick Cavett (see video) asked Jimi Hendrix why he played "The Star Spangled Banner" at Woodstock he responded, "I'm an American, so I played it...I didn't think it was unorthodox, I thought it was beautiful." And to many it was.
Filled with passion, pain, excitement and spontaneity it is considered one of the most patriotic rock songs ever recorded and a top Jimi Hendrix moment. Unfortunately, others thought it made a mockery of the national anthem, but it's important to note that Hendrix was an Army vet with the 101st Airborne Division and cared deeply about his country.
"It was the most electrifying moment of Woodstock, and it was probably the single greatest moment of the '60s," New York Post pop critic Al Aronowitz opined. "You finally heard what that song was about, that you can love your country, but hate the government."
Final Thoughts: Best Patriotic Rock Songs
Want to show off your patriotism and play these songs yourself? Introducing Spark from Positive Grid, a practice amp that fuels your creativity as you play. A powerhouse 40 Watt combo, Spark is a smart amp and app that jams along with you using Intelligent Technology, with backing tracks available for any style you play. Including over 10,000 tones (such as those found on this list!) on the Positive Grid ToneCloud, you'll never run out of inspiration. Plus, you can use Spark as your USB audio interface for easy home recording and track your ideas with the included PreSonus Studio One Prime recording software. Find out more here.
---
Brad Tolinski is perhaps best known for his work as the editor-in-chief of Guitar World magazine for 25 years. He is also the author of Light and Shade: Conversations with Jimmy Page (Crown); and Play It Loud: An Epic History of the Style, Sound and Revolution of the Electric Guitar (Doubleday), which was the basis for a 2019 guitar-focused exhibition at the Metropolitan Museum of Art in New York City. Most recently he edited the 50th Anniversary Commemorative Issue of CREEM magazine, and his latest book Eruption: Conversations with Eddie Van Halen (Hachette) will be coming out in October 2021.