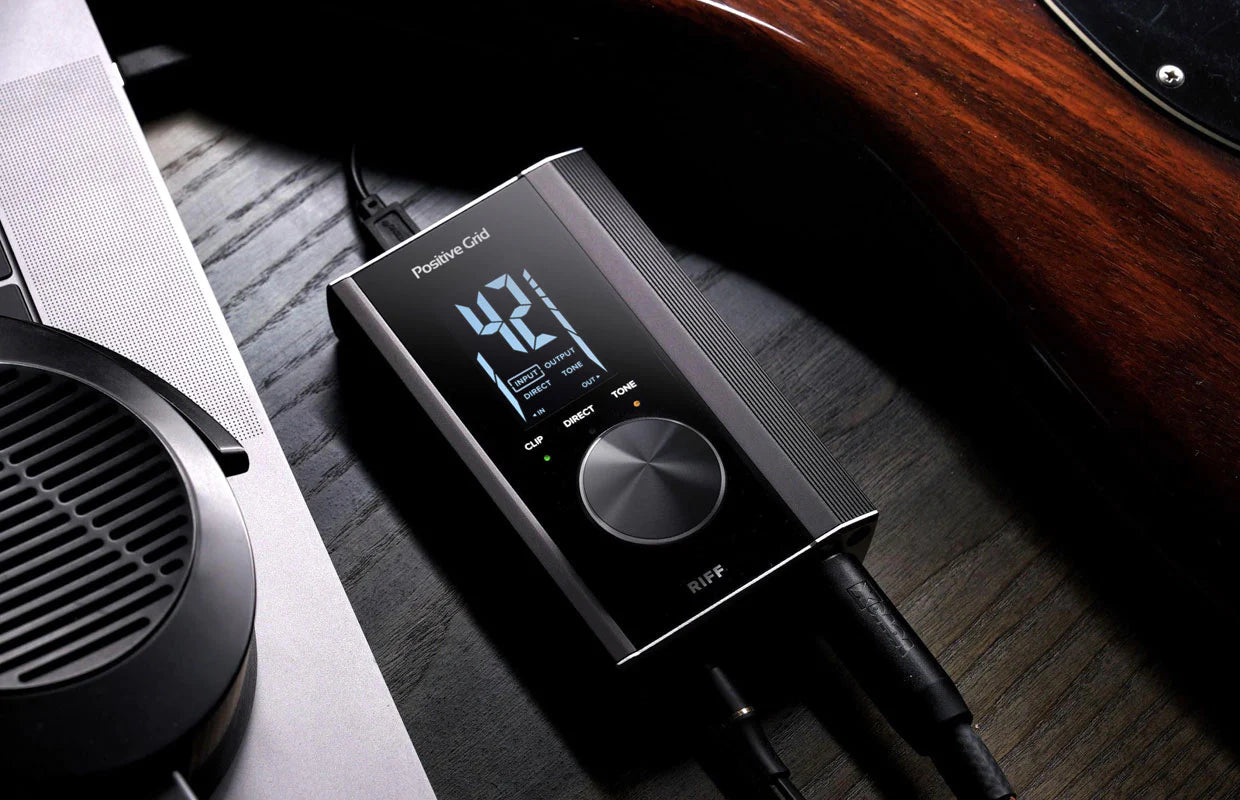 February 28, 2023By Joshua Fernandez 0 Comment
If you own a Spark amp, then you already know how it helps you play more than ever with access to incredible tone and smart features.

But by now, you may be feeling ready to expand your guitar possibilities even further. Connecting your guitar to your computer or mobile device is one of the best ways to do that. It'll unlock a whole new world of recording, jamming and practicing features to explore, and our RIFF guitar interface gives you the keys to the kingdom.

First, let's break down each piece of gear:

Spark, as you know, is a practice guitar amplifier and an accompanying free mobile app that allows you to access a library of amps and effects, smart features like Smart Jam and Auto Chords, as well as 10,000+ tones on the Spark ToneCloud. It's available as the 40-watt Spark 40, or its little brother, the 10-watt, battery powered Spark MINI. While Spark includes a built-in USB audio interface that will enable recording, it's just one of many brilliant features to level up home guitar practice.

RIFF on the other hand is a guitar interface, and its primary purpose is connecting your guitar to your desktop computer or iOS mobile device. It's pocket-sized, so you can easily take it anywhere you go to capture your latest song ideas or to simply practice and jam. While you can use it with any DAW or software, RIFF is deeply integrated with (and comes with a free copy of) our BIAS FX 2 software, which transforms your computer or mobile device into a fully customizable guitar and bass rig. More on that later.

So if you own Spark, why do you need RIFF? Here are a few reasons.


Access to BIAS FX 2
If you own Spark then you're well acquainted with the app's easy-to-use UI, which lets you select from a library of amps and effects to dial-in tones of your own. On the other hand, you could describe BIAS FX 2's UI as just like Spark's, only on steroids – it lets you dig into your tones even deeper with even more control. BIAS offers a more complete list of classic amps, effects and even HD racks to choose from, as well as the ability to customize your signal path and tweak your settings to higher detail. We're talking truly endless sound options.

Unique to BIAS FX 2 is Guitar Match, an incredible feature that lets you turn your guitar into a legendary axe. BIAS literally listens and maps your guitar, transforming it into another. And just like Spark, BIAS FX 2 has its own ToneCloud, chock-full of 50,000 presets made by guitarists and producers around the world.

There are other handy features like Rewind, which records your playing at all times to ensure you never miss a creative moment, plus standbys like a tuner, metronome and looper. Just like Spark, BIAS FX 2 has its own Music page, allowing you to jam along to backing tracks on YouTube and even learn the chords instantly with Auto Chords.

RIFF is optimized for BIAS FX 2 – you can simply plug in and the pair work together magically. And best of all, RIFF comes with a free copy of BIAS FX 2 LE.

Easy recording
Like we mentioned before, the primary purpose of an interface is to connect your guitar to your computer or mobile device to record. With its handy size and rugged build, RIFF is your everyday USB audio interface for recording using your favorite DAW on iOS, macOS, or Windows.

But what makes RIFF different from other interfaces is that it's built for guitarists, by guitarists: Simply plug in any guitar and RIFF's ingenious Auto Gain automatically adjusts input levels for optimum sound. Or, select Direct Mode to play and record guitar with zero latency for the most accurate signal possible. RIFF also includes 3 unique Tone Modes, which are legendary preamp and overdrive settings built right into the device. You can easily add warmth, classic analog boost or beefed-up overdrive at the tap of a button.

Ready to record right now? RIFF comes with a free copy of PreSonus Studio One recording software.

Take it with you
Never underestimate the power of travel-ready gear. Whether you're headed out for a work trip or to your bandmate's basement, RIFF can come along for the ride to record demos, capture ideas or simply jam. Then, when you're back home, you can easily transfer these recordings to your desktop rig, plug in with RIFF, and finish 'em up. RIFF is sturdy, small enough to fit in your gig bag, and travels wherever you go.

A wide world of virtual gear
Whether you record with PreSonus Studio One, dial in tones with BIAS FX 2, or have other DAWs or guitar software you're privy to, RIFF lets you connect to them all. It wasn't long ago that only a small handful of manufacturers were developing software for guitarists, but now, the options are truly staggering, and the sound quality is mindblowing. Honestly, any guitar player not taking advantage of this new frontier of virtual gear is missing out. Don't let that be you! Plug in, play more and have fun.

Find out more about RIFF here.