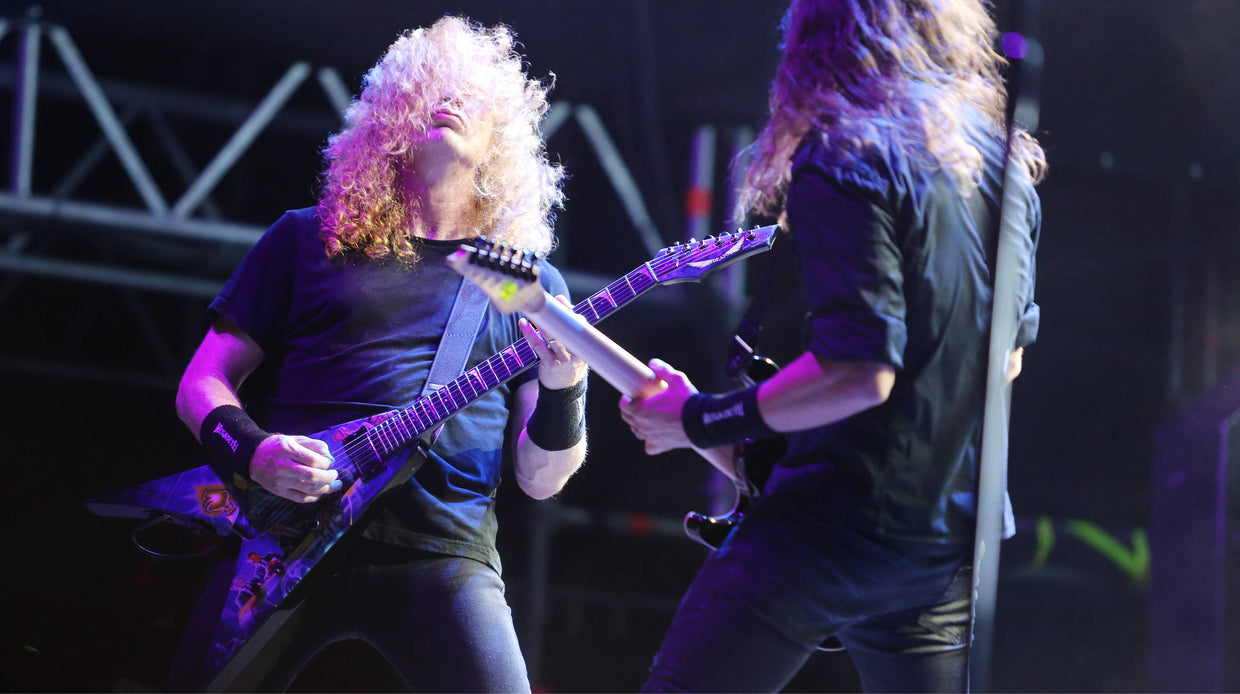 September 27, 2022By laura.whitmore@positivegrid.com BigCommerce 0 Comment
The Best Metal Guitar Riffs of All Time
By Vince Bellino
Heavy metal is all about the power of the guitar riff. You know, the guitar part that drives your favorite song, pummeling its way into your brain and inspiring armies of longhairs to pick up their axe and play the songs they love so much.
Since the beginning, metalheads have debated the greatest metal guitar riff of all time. Whether they prefer the speed of Slayer, the sludginess of Black Sabbath, or the fist-pumping attitude of Pantera, metal fans love to wear favorite riffs on their sleeve like a badge of honor. We weighed in with 10 of our favorite contenders for the greatest heavy metal riff of all time—unranked, because there's no wrong answer here.
Best Heavy Metal Riffs of All Time
Slayer's Kerry King and the late Jeff Hanneman were a legendary pairing, writing many contenders for the greatest metal riff over their career, but they never did it better than on "Raining Blood." You don't have to be a Slayer fan – or even a metal fan in general – to instantly recognize those pounding drums and that descending guitar riff that still sends chills down the spines of metalheads everywhere. Not only is "Raining Blood" one of the greatest metal riffs of all time – it's also one of the greatest metal songs of all time.
All hail Tony Iommi. Without Black Sabbath's bespectacled riffmaster general and his foreboding, blues-driven riffs, the rest of this list wouldn't even exist. "Iron Man" continues to encourage fledgling metalheads to join the cult, and remains a rite of passage for every young guitarist starting out in their bedroom. "Iron Man" may seem simple compared to some of the entries on this list, but its greatness cannot be denied. It even made an appearance in the Marvel Universe for 2008's Iron Man film.
Iron Maiden are the kings of the New Wave of British Heavy Metal, defining their style with galloping, twin-guitar riffs that still sound fresh today. Adrian Smith and Dave Murray begin the second half of Piece of Mind with one of their finest works, setting the stage for Bruce Dickinson to tell stories of war and battle.
Judas Priest
"Breaking the Law"

There are few heavy metal albums more classic than Judas Priest's British Steel. Guitarists K.K. Downing and Glenn Tipton attack the song in perfect tandem, burrowing the riff deep inside the listener's brain and setting up Rob Halford, the Metal God himself, to lay down one of the most memorable vocal lines in Judas Priest's long and storied career.
This one kind of feels like cheating since "You Suffer" is so short (clocking in at exactly 1.316 seconds). However, we're including it as it is officially recognized by Guinness World Records as the shortest ever recorded, and we can't think of any other metal guitar riff that holds a world record.
"You suffer, but why?"
Metallica
"Master of Puppets"

The titular track to Metallica's third album features one of the best and most distinctive riffs in all of metal history. Played entirely using downstrokes, Kirk Hammett crafted a riff that is instantly recognizable from its first note, and has become a rite of passage for every advanced-level metal guitarist out there. You can debate which of the first four Metallica albums is the best until everyone is blue in the face, but few offerings are more whiplash-inducing than "Master of Puppets."
Dimebag Darrell was an instantly-recognizable guitarist, both for his playing ability and his signature Razorback guitar. On "Walk," Darrell proved that, sometimes, simplicity and groove is better. "Walk" is instantly recognizable from the first note and is arguably the heaviest song on this list, making it an essential heavy metal riff.
Death mastermind Chuck Schuldiner is the godfather of death metal as we know it today, assembling all-star lineups for each release and constantly pushing the boundaries of the sound he created. In their early days, Death were a primitive riff machine; "Pull the Plug," the B-side opener to 1988's Leprosy, is the audio equivalent to a zombie rising from the grave. The opening selection is slow and crawling, allowing for maximum headbanging and making it on our list of best metal riffs.
Mastodon
"Blood and Thunder"

Leviathan is Mastodon's crowning achievement, consuming the listener in a whirlwind of progressive sludge and featuring some of the best guitar work of the band's career. The record starts off at high speeds with "Blood and Thunder," which sets the tone with a relaxed, clean riff before diving into a bouncy, distorted assault that hints at the radio sensibilities the band would soon develop. There's no doubt that Mastodon's Leviathan is a modern guitar classic, and a large part of that accolade is due to "Blood and Thunder."
White Zombie
"Thunder Kiss '65"

White Zombie brought the groove with their third album La Sexorcisto: Devil Music Volume One, welcoming new guitarist Jay Noel Yuenger into the fold. With the addition of Yeunger, White Zombie introduced a more metallic element to their sound alongside their industrial roots and Rob Zombie's inimitable vocals. The riff for the album's lead single "Thunder Kiss '65" is so good that it scored the band a Grammy nod for Best Metal Performance.
Megadeth
"Symphony of Destruction"

'Deth are thrash metal's premier guitar band: the thrash progenitors' discography boasts some of the best shredders the genre has ever seen. With Countdown to Extinction, Dave Mustaine and Marty Friedman traded some of their guitar wizardry for accessibility, writing some of the catchiest songs of their career, including "Symphony of Destruction." Its main riff is almost poppy in its construction, yet still undeniably Megadeth.
Anyone even remotely familiar with Brazilian metal titans Sepultura (namely founding members Max and Igorr Cavalera) know that they can't be tied down to one particular sound. While they rose to popularity as pioneers of the '80s Crossover Thrash scene, they're considered just as influential to Death Metal, Black Metal, and even Nü Metal.
Their 1993 album Chaos A.D. seemingly was a 180 from their previous album, Arise. Its lead single, "Refuse/Resist," made it clear that the band was intent on swapping sound barrier-breaking guitars and blastbeats with slowed-down riffs and Afro-Brazilian / tribal drum patterns. This drastic shift worked heavily in their favor, and "Refuse/Resist" is a fan-favorite to this day.
Final Thoughts: Best Metal Guitar Riffs
Allow us to introduce you to Spark MINI - our battery-powered practice amp with smart app integration and big, beautiful multi-dimensional sound. With multi-dimensional rich and detailed sound, all-new Smart Jam, video creation, and 8-hours of battery life, it's the biggest smallest rig ever.
Spark MINI also doubles as an ultra-high-quality Bluetooth® speaker, allowing you to stream your favorite music from your computer or mobile device. Sit back and listen, or pick up your guitar and jam along. It's an unmatched, go-anywhere audio sweet spot. Find out more here.
---
Vince Bellino is a "professional" heavy metal nerd. His work has appeared in Decibel, The Daily Dot, Philadelphia Weekly and more.