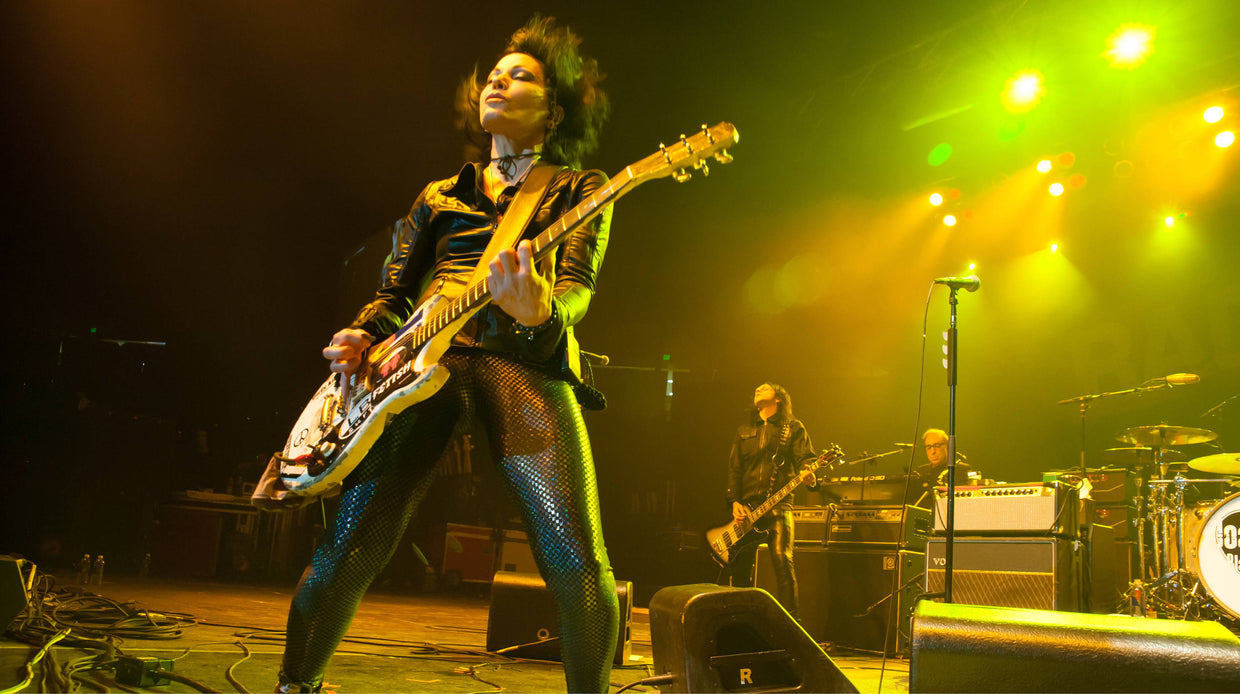 September 27, 2022By laura.whitmore@positivegrid.com BigCommerce 0 Comment
The Best Female Guitarists of All Time
By Brad Tolinski
Play like a girl? Dude, you wish!
Especially if you could jam like any of the women on this list of the Best Female Guitarists of All Time. Thanks to modern shredders like Nita Strauss, Nili Brosh, Samantha Fish and Yvette Young, plus the legends we've listed below, playing the guitar has never been only man's sport.
As Aretha Franklin once said, R-E-S-P-E-C-T. And that is exactly what you shall have, especially if you take the time and check out the videos we've attached to each entry.
Lucinda Williams called her "the most important female singer, songwriter and female guitarist in the history of Delta blues," and in 1970, Led Zeppelin recorded their version of her 1929 classic "When the Levee Breaks." But for those unfamiliar with Memphis Minnie, she was the first woman blues guitarist, singer and songwriter to gain prominence in the years between 1929 and 1953.
Minnie became one of the earliest blues artists to embrace the electric guitar, and was particularly associated with an electrified National New Yorker model. After witnessing a 1943 gig at the 230 Club in Chicago, the poet Langston Hughes rhapsodized over "Memphis Minnie's electric guitar, amplified to machine proportions—a musical version of electric welders plus a rolling mill."
While her entire catalog is worth a listen, we recommend starting with her wonderful 1944 hit "Me and My Chauffeur" or the aforementioned 1929 version of "When the Levee Breaks," performed with her partner Kansas Joe McCoy.
In a career that spanned from the 1930's to well into the 1960's, Sister Rosetta Tharpe played the best and the boldest axes, starting with a gleaming, aluminum-bodied 1932 National Triolian and moving through Gibson's mid-20th century "golden era" of Les Pauls, SGs ES-335s and the stylish Barney Kessel Custom. She played them all with maximum emotional impact, forging an innovative style that fused gospel with R&B and blues. Her music exerted a substantial influence over first-generation rock and rollers such as Elvis Presley, Little Richard and Jerry Lee Lewis.
If that sounds like hype, get a load of Tharpe going to town on the compilation video posted above. You'll surely be on the other side of the fence after watching one of the best female guitarists of all time.
Hailed as the "Queen of Rockabilly," Wanda Jackson blazed a trail for women in rock with a string of raw, raunchy, red-hot records including "Fujiyama Mama," "Mean, Mean Man," "Let's Have a Party," and "Hot Dog, That Made Him Mad." Her frenetic vocalizing, dynamic, sexualized performance style, driving rhythm guitar and tough-gal lyrics shocked mid-century America. Elvis shaking his hips up on stage was bad enough, but a woman...? Jackson would become a role model for gifted, outspoken, assertive and some of the best female guitarists of future generations.
It's a cliche to describe a great artist as an "original," but few figures in the history of modern music have blazed as many trails as Joni Mitchell. Rolling Stone called her "one of the greatest songwriters ever," and "perhaps the most important and influential female recording artist of the late 20th Century." Even as one of the most famous female guitarists and performers of her time, she remained uncompromising and iconoclastic - skillfully shifting between folk, rock, mainstream pop and jazz, leaving her indelible stamp on all of them.
"My guitar playing was never like anybody else's," Joni said. "For a moment, I sounded a little like Joan Baez. An influence snuck in but when I started to write [my own songs], it disappeared. And I never, from then on, wanted to sound like anybody else. I only wrote two songs in standard tuning. One of them was "Urge for Going," which was one of my very first ones. I never wrote and played in standard tuning again, because everything sounded like it was 'mined out.' No matter how well you played in it, it just seemed like a tired and worn-out road. Everything sounded derivative. I was trying to get at something that would excite me, a fresher thing."
In the above video, Joni plays with jazz greats Pat Metheny and Jaco Pastorius. Oh, and by the way, they are playing in her band.
While everyone cites Duane Allman as the originator of the modern slide guitar, Bonnie Raitt was just as important in the 1970's and beyond. Learning directly from blues greats like Buddy Guy, Mississippi Fred McDowell and John Lee Hooker whom she befriended, Raitt's devotion and mastery of roots music has made her one of the most respected guitarists in the world and an inspiration to a whole new generation of women blues singers and top female guitarists like Susan Tedeschi, Ana Popovic and Samantha Fish.
In the above video, she rips it up on stage with Jeff Beck, Jimmy Vaughan and Gary Clark Jr. in front of an audience that includes Jimmy Page and Buddy Guy. And if it was a cutting contest, she'd be the clear winner.
"My parents got me a guitar for Christmas when I was 13 and I went to take lessons," Joan Jett once told Guitar World magazine. "I told the teacher I wanted to learn how to play rock and roll, and because I was just a naïve kid, I thought he was going to be able to show me in one lesson! I didn't know that you had to learn the ropes. If he would've explained that to me, it would've been fine, but instead he said something far worse. He told me, 'Girls don't play rock and roll,' and then tried to teach me 'On Top of Old Smokey.' "
In response, Joan grabbed her guitar and stormed out never to return. A mere two years later, at the age of 15, Jett proved her teacher—and every other sexist naysayer—wrong when she formed the Runaways, a groundbreaking all-female rock band, best known for their 1976 hit "Cherry Bomb."
While the Runaways were crucial to Joan's development, it was her solo career that made her a household name. A succession of Top 40 hits including "Bad Reputation," and her tough-as-nails interpretations of the earlier rock and roll classics "Crimson & Clover," "Do You Wanna Touch Me (Oh Yeah)" and "I Love Rock 'N' Roll" cemented her status as the quintessential female electric guitarist and queen of noise.
Catapulted into fame in the late 1980's when she became Michael Jackson's touring guitarist (aka, the woman who could play Eddie Van Halen's solo in "Beat It"), Jennifer Batten has proven over the years she is much more than the late King of Pop's on-stage foil. Recording three stunning solo albums and appearing as Jeff Beck's co-guitarist on his Who Else! (1999) and You Had it Coming (2001) albums, she is also one of our most gifted soloists, male or female.
Her online Guitar Cloud Symposiums have become legendary, and she was also recently inducted into Guitar Player magazine's Gallery of the Greats. If you want to see what all the buzz is about, check out Batten's blistering take on "The Flight of Bumblebee," and prepare to be stung by this top female guitarist!
Rebecca and Megan Lovell (Larkin Poe)

Often touted as "the little sisters of the Allman Brothers," Rebecca and Megan Lovell of Larkin Poe are two of our current favorite American roots rock guitarists. Featuring strong harmonies, heavy electric guitar riffs and virtuoso slide guitar playing, Larkin Poe have been making a huge national reputation by touring with serious tastemakers like Elvis Costello and Keith Urban. Their new covers album, Kindred Spirits, features their exciting two-guitar arrangements on classics like Eric Clapton's "Bell Bottom Blues," Robert Johnson's "Hellhound on my Trail" and "In the Air Tonight" by Phil Collins (!).
If you wanna see what the fuss is all about, check out the Lovell sister's powerful version of Son House's "Preachin' Blues" and prepare to say "amen."
Final Thoughts: Best Female Guitarists
If this list has inspired you to further explore these phenomenal guitarists for yourself, we urge you to check out the groundbreaking Spark amp. With access to thousands of incredible sounds (over 10,000 tones and counting!), plus the intelligent technology like the Smart Jam feature that learns your style and feel to generate your own authentic bass-and-drum backing band, it's the only practice amp you'll ever need. Plus, you can use Spark as your USB audio interface for easy home recording and track your ideas with the included PreSonus Studio One Prime recording software. Find out more here.
---
Brad Tolinski is perhaps best known for his work as the editor-in-chief of Guitar World Magazine for 25 years. He is also the author of Light and Shade: Conversations with Jimmy Page (Crown); and Play It Loud: An Epic History of the Style, Sound and Revolution of the Electric Guitar (Doubleday), which was the basis for a 2019 guitar-focused exhibition at the Metropolitan Museum of Art in New York City. Most recently he edited the 50th Anniversary Commemorative Issue of CREEM magazine, and his latest book Eruption: Conversations with Eddie Van Halen (Hachette) will be coming out in October 2021.