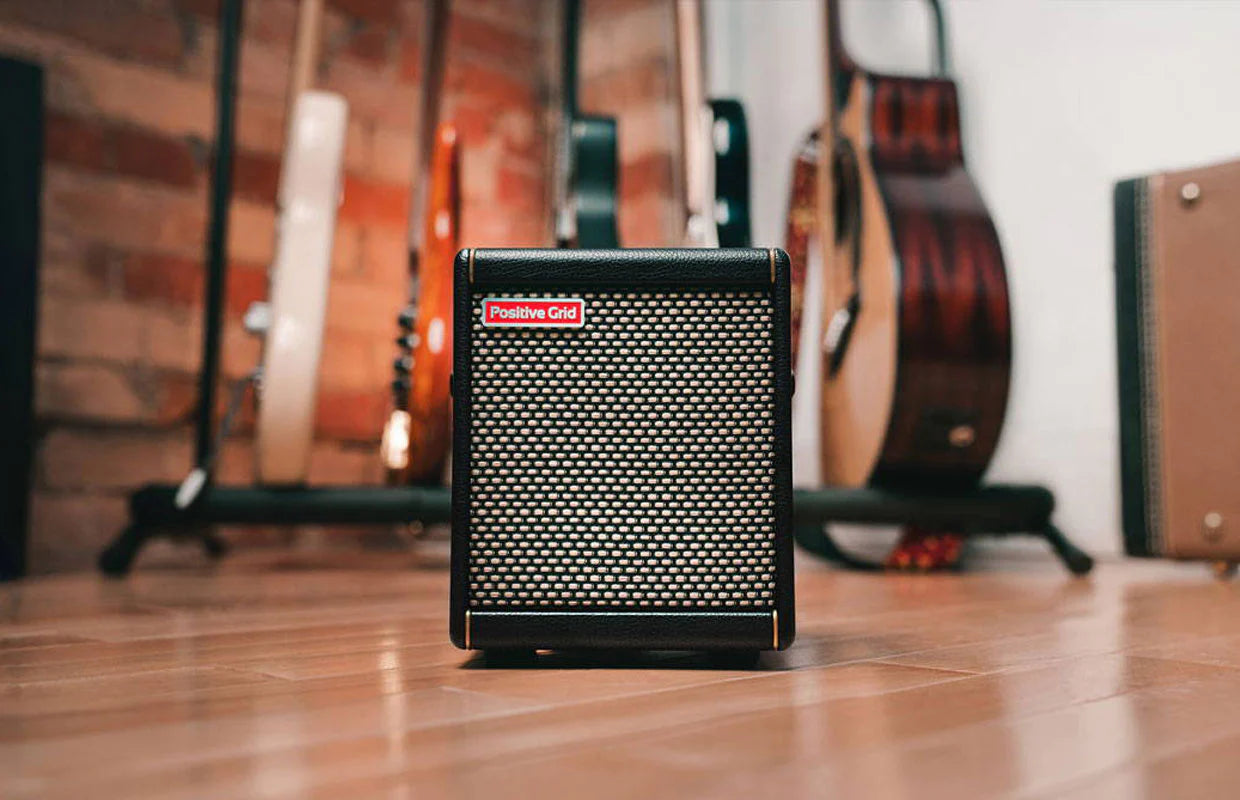 November 07, 2022By Joshua Fernandez 0 Comment
One of the most difficult decisions beginner guitarists and bassists face is choosing a great practice amp. And it's an important choice.

Whether you are just starting to learn to play guitar, or you're a seasoned pro, most players actually spend more time playing through a practice amp than larger gigging amps, so it's essential to find something that is inspiring and sounds good in smaller rooms.

Up until recently, most practice and beginner guitar amps were somewhat lackluster. However, the situation has vastly improved due to some incredible technological breakthroughs. So, what is the best beginner amp? Here are ten reasons why you should consider the remarkable (and affordable) Spark MINI amp, and discover for yourself why "small is the new powerful."


Take Your New Lil' Buddy Anywhere
The 3-pound Spark MINI is light and battery powered and sounds incredible, which means you practice when and where you want, from the privacy of your bedroom to the top of Mount Everest. If you need to be quiet, the unit also comes with a headphone jack, so you can even take it to the library, put in your ear buds, and no one will be the wiser.
It's a Bluetooth® Speaker!
Listening is part of learning. When you're done practicing and you just want to lay back and groove to your favorite musicians, Spark MINI also functions as a top-notch Bluetooth® speaker. Featuring a full-stereo experience with an thumping omni-directional bass sound, MINI is destined to become your favorite device…with or without your guitar.
Meet Your New Jamming Partner
This is where Spark MINI really starts to shine as the best guitar amp for beginners. Using artificial intelligence, Spark's Smart Jam technology has the ability to analyze your chords and improvisations and generate authentic bass lines and drum parts to accompany you. If you've never had the thrill of playing in a group or with other musicians, Smart Jam's "virtual band" will help prepare you for that day.
Spark MINI with Spark Control, a wireless foot controller for the Spark amps
Learn the Chords to Any Song…Now
Auto Chords is another incredible feature for beginning guitarists and professionals. Spark MINI's app has the ability to analyze any song on your playlist and automatically display its guitar chords in real time as you play. If you need to move at a slower tempo, no problem—the app's intuitive controls make it easy to go at whatever speed is comfortable for you, and a looping capability allows you to repeat the chords as many times as you wish. This feature alone would make Spark MINI the best guitar amp for beginners.
The Best Beginner Amp and Its Thousands of Sounds
Having the right sound for the right song is an important part of practicing. What makes Spark MINI a good beginner guitar amp is its ability to access thousands of different digital tones and effects. Whether you want to duplicate the thunderous power chords of Led Zeppelin, the wild leads of Jimi Hendrix, or strum along to an Ed Sheeran ballad, the MINI has a sound that will match your desired mood. Back in the day, all of these effects would've cost you thousands to replicate, but with Spark MINI, they're built in and part of the same affordable package.
Play Along with the Beatles, Metallica, Stevie Ray or Anyone Else
If you would like to play along with your favorite recording or practice some blues licks over a cool vamp you heard online, MINI allows you to download your favorite backing tracks and jam right along with them. Turn up your guitar and the desired track through this phenomenal beginner amp and it'll sound like you're playing in the same room with the world's greatest musicians.


Building the Perfect Tone
If you've read about phasers, flangers, overdrives and delays, but don't really know what these effects sound like or how they operate, no worries. One of the reasons Spark MINI is a good beginner guitar amp is that you can access all of these exotic effects and play around with them on the Spark MINI app without spending any extra cash. Hours of fun can be had just experimenting with one amp or effect, and MINI offers dozens of them! As you get familiar with MINI and the app, you'll also learn about EQ'ing, signal chains and how to dial in the right sound for different genres.
Pick a Guitar…Any Guitar. And Maybe a Bass or Violin, Too.
Sure, Spark MINI sounds great with an electric guitar, but the unit also sounds superb with acoustic/electric guitars, basses, keyboards or any other instrument that uses a pickup, including violins, mandolins or harmonicas. Yes, it's the best guitar amp for beginners, but it also is the best beginner amp for just about any other electric instrument.
The Best Beginner Guitar Amp Has the Best Community of Players
While Spark MINI is pretty easy to use, there are hundreds of thousands of enthusiastic Spark users online to offer advice and encouraging words to beginners. In fact, everyday there seems to be a new Spark-oriented Facebook page or chat group popping up. Simply search "Spark amp" and in minutes, you'll be making friends and learning new ways to use your brilliant beginner guitar amp.
It's Affordable!
Did we save the best for last? Possibly. With all these amazing features you'd think Spark MINI would cost an arm and leg. You'll be happy to know it won't even cost you your baby toe. At an astounding $199, Spark MINI is not only the best guitar amp for beginners, it's a practice amp that will grow with your playing for years to come.
Final Thoughts: Why You Should Choose Spark MINI as the Best Beginner Guitar Amp
Okay, now that we've convinced you that Spark MINI is the best guitar amp for beginners, you're either going to want to: a) hear it, or b) read more about it. Well, you're in luck! You can do both right here.

A mind-blowing portable powerhouse, Spark MINI delivers innovative smart guitar playing to go. With multi-dimensional high-quality sound, all-new Smart Jam, video creation, and Bluetooth® audio streaming, it's the biggest smallest rig ever.