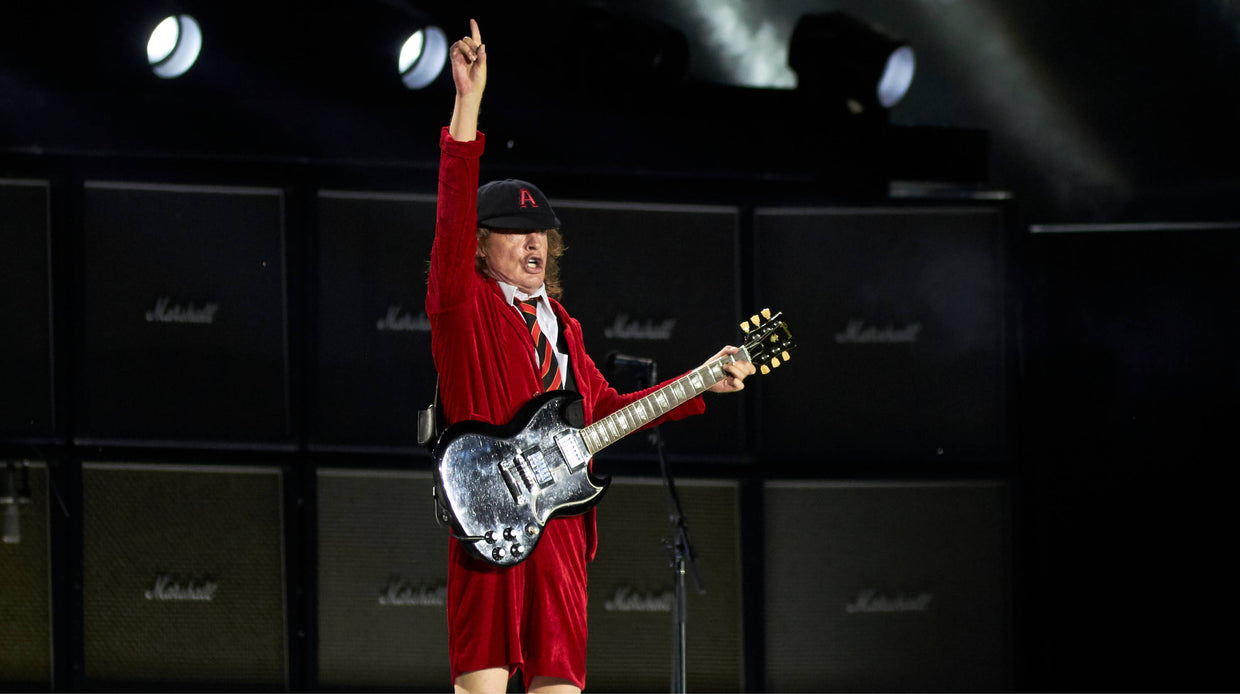 September 27, 2022By tom.gilbert@positivegrid.com BigCommerce 0 Comment
The Best AC/DC Guitar Moments
By Brad Tolinski
When AC/DC recently announced that they were releasing a new album, fans were thunderstruck. In 2017, rhythm guitarist Malcolm Young passed away, and over the last few years several members of the band had battled serious illnesses. Given all of their adversity, it looked like the group was finished.
Miraculously, AC/DC lead guitarist Angus Young rallied the surviving musicians, and they have returned with a terrific new album entitled Power Up. As Angus told Rolling Stone magazine, "It's been a long, long road. But it's good that everyone came on board and we get to pump out a bit of new rock and roll for the world. At this time, with the pandemic, hopefully it gives people a few hours of toe-tapping enjoyment."
In honor of the band's return to action, and their terrific new single "Shot in the Dark," we decided to look back at eight of the best AC/DC guitar moments.
AC/DC's Best Guitar Moments
"Riff Raff" Live at the Apollo, Glasgow 1978
"RIff Raff" begins with a series of majestic opening chords. But don't let that little overture fool you. It's just a distraction before guitarists Angus and Malcolm punch you in the face with three bruising A5 power guitar chords and a galloping blues riff scientifically designed to get you out of your seat and headbanging like a fool. It is a helluva lot of fun to play the "Riff Raff" tab on the guitar, like most AC/DC songs. And who really cares that the middle was directly stolen from Johnny Winter's "Rock and Roll Hoochie Koo"? As far as we're concerned, you should learn how to play that song, too!
"TNT" Live at the River Plate, 2009
"TNT" - arguably the easiest AC/DC guitar tab - is so simple to play you could probably teach your dog to do it. However, that doesn't mean it isn't great. In this video, watch about 10,000 people lose their minds as AC/DC rhythm guitarist Malcolm Young plays the song's E - G - A chord sequence over and over a couple billion times. Think it's easy because you played the classic AC/DC song on Guitar Hero? Well, it is. And that, my friend, is the magic of rock and roll.
"Hells Bells" Live at Donington, 1991
We don't care how many times we've heard this ominous opening riff—or that singer Brian Johnson is wearing the worst pair of dad jeans we've ever seen in this video—it still sends goose bumps "up and down our spines" every time we hear it. This isn't just one of AC/DC's best guitar moments, it's one of mankind's greatest moments, period. But the part of this song we really love is when rhythm guitarist Malcolm Young goes into those funky syncopations during brother Angus's blistering guitar solo.
"Highway to Hell" (Official Video)
This official video will teach you a few things. First, pay close attention to how AC/DC guitarist Angus Young adds that F# on the low E string while playing a D chord to give it some dimension. It's a simple, but cool little technique. Next, watch how rhythm guitarist Malcolm makes the song explode by patiently waiting until the chorus to leap in. And finally, pay close attention to the sartorial elegance of singer Bon Scott. Nothing says you're on a "Highway to Hell" more than a sleeveless jean jacket.
"Thunderstruck" (Official Video)
Okay, you simply can't talk about AC/DC's best guitar moments without including "Thunderstruck," but not for the reason you might think. Yes, Angus Young's opening cascade of hammer-ons and pull-offs is brilliantly executed, making it the subject of endless AC/DC guitar tabs. But what makes this song really cook is Malcolm Young's brilliant rhythm guitar that kicks in at the 0:50 mark on this video. We would argue that replicating his groove on that one chord for friggin' two solid minutes is infinitely harder than playing Angus's opening lick...or "Eruption" by Van Halen, for that matter.
"Let There Be Rock" Live at the Apollo, Glasgow, 1978
AC/DC once sang, "It's a long way to the top if you wanna rock and roll." Truth is, it didn't take them all that long, because they learned very quickly how to destroy clubs like the one in this video on a regular basis back in 1978. This video of them playing "Let There Be Rock" is a college education in 7 minutes on how to be an incredible band. As original singer Bon Scott explains how rock music was invented, Angus and Malcolm show you how it's done, using little more than three chords, a handful of blues licks and an unending amount of energy.
"You Shook Me All Night Long" (Official Video)
It might be a little cliche to end our list with AC/DC's two biggest songs from their biggest album, but the facts are hard to ignore. Since Back in Black was recorded in 1980, it has sold an astounding 50 million albums (that's 25x Platinum, pal), making it one of the biggest selling albums in music history. Rolling Stone magazine even hailed it as "the apex of heavy metal art."
"You Shook Me All Night Long'' features almost every great trick in the AC/DC guitar book—and then some. It has the false start of "Riff Raff," the delayed entrance of the second guitar like "Highway to Hell'' and the funky syncopations during the solo section like "Hells Bells." But it also features one of Angus's and AC/DC's best guitar solos and choruses worthy of the flippin' Beatles. Yes, it's a cliche, but there is no way to leave "You Shook Me All Night Long'' off the list of the best guitar moments of AC/DC.
"Back in Black" (Official Video)
The scribes at Metal Hammer magazine in the UK wrote: "There are rock songs that appeal to metal fans. And there are metal songs that appeal to rock fans. Then there is 'Back in Black'— a rock and metal song that appeals to everybody, from dads to dudes, to little old ladies beating noisy kids over the heads with their sticks—and it all hangs on that monumental, no-nonsense, three-chord monster of a riff."
[See more: The 10 Most Iconic Guitar Riffs of All Time]
We really can't beat that description, so we're not even gonna try. Written as a tribute to their former singer Bon Scott, it is a dual guitar masterpiece of chunky rhythm playing and hooky licks, topped with AC/DC guitarist Angus Young's most hummable solo.
It's basically a rock and roll requirement that every electric guitarist must learn the opening licks to "Back in Black." Now imagine how much better it would sound if you could dial in that incredible AC/DC guitar tone. Let Positive Grid's amazing Spark smart guitar amp help you out; the "Back in Black" tone, as well as thousands of other classic guitar sounds, can be dialed in using the Spark app. Click here to check out this amazing amp plus all that it offers, and for those about to rock, we salute you!
---
Brad Tolinski is perhaps best known for his work as the editor-in-chief of Guitar World Magazine for 25 years. He is also the author of Light and Shade: Conversations with Jimmy Page (Crown); and Play It Loud: An Epic History of the Style, Sound and Revolution of the Electric Guitar (Doubleday), which was the basis for a 2019 guitar-focused exhibition at the Metropolitan Museum of Art in New York City. Most recently he edited the 50th Anniversary Commemorative Issue of CREEM magazine, and his latest book Eruption: Conversations with Eddie Van Halen (Hachette) will be coming out in October 2021.